Extend the Value of Sunshine
Background

Tentek is a high-tech enterprise with independent research and development. The group has more than a dozen of subsidiaries and has built a customer-centered marketing service system.

Development

TenTek products, with exclusive patented technology, have developed a new generation of unique and powerful microinverters that will serve every customers.





Engineering R&D

The independent and innovative R&D team with 25 years of experience mastered the core technology of microinverter power generation and obtained a number of invention patents.

Free After-Sales

From R&D to production, special personnel will follow-up the progress for you. The product is guaranteed for 25 years, and could be repaired for free for any quality problem.
Tentek MicoinvertersTiger Series Microinverters 600w-2kw
TENTEK Tiger series microinverters are on/off-grid inverters when working with our Tribune-EMS series controller, it magically creates a residential solar storage system that supports battery mode operation without main power. In addition, the independent MPPT input ensures the MAX output of each solar panel. Since the 25-year lifespan of microinverter is designed to be the same as the solar panel, customers do not need to be worried about the hassle of replacing the inverter after a few years.
● Can work in off-grid, with ups and storage function
● Automatic power distribution( automatically distribute the power to loads, charge batteries,
and the grid )
● Solar panels output voltage <60VDC, decrease the risk of the electric fire.
● One-panel match one MPPT, increase 5-15% electricity production verse string inverters.
● Keep each panel working individually, avoid the impact of partial shadows .
● Independently tracking each solar panel's production, easy to identify each
solar panel's performance.
● Flexible application function, could be switched to off-grid mode to supply AC power
to home devices.
● Lightweight and compact with plug-and-play connectors, easy to install.
● Flexibly monitor your solar harvest via the APP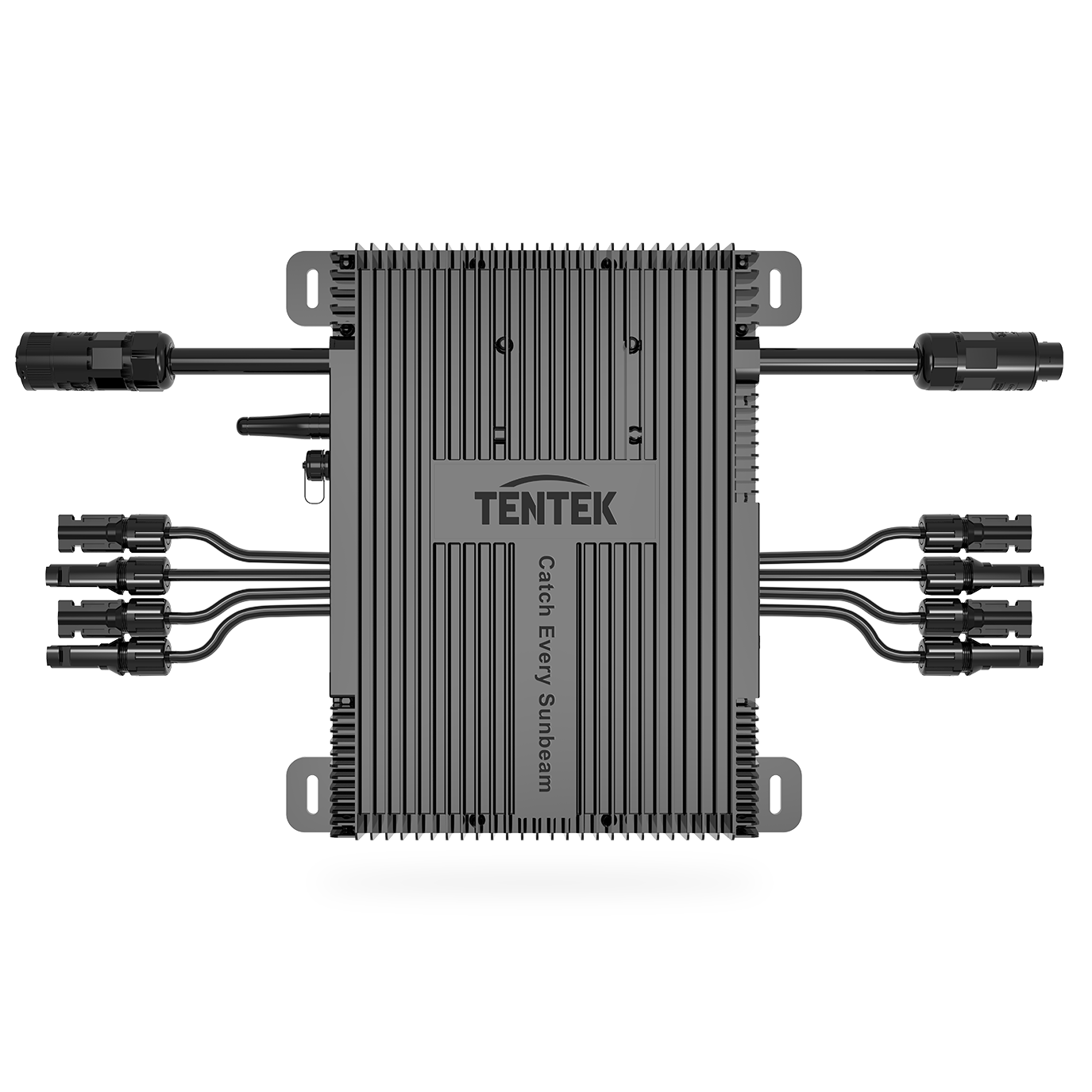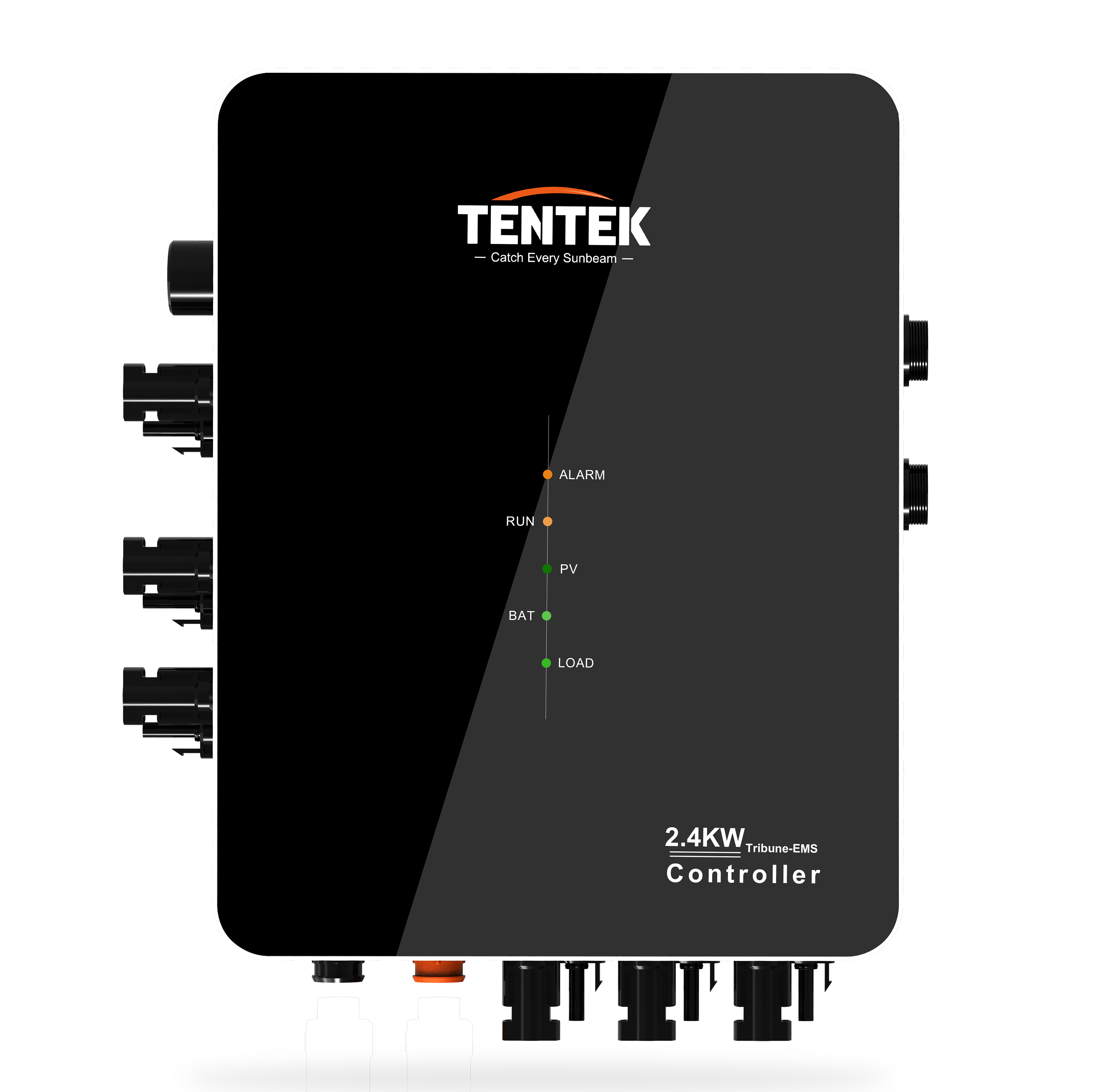 TENTEK Intelligent EMS Controller Tribune-EMS 1.6-4.8KW EMS Controller
TENTEK Tribune series energy controller has a powerful and advanced system that integrates (MPPT+AC) battery charger and energy management function for on/off-grid PV system with MAX 4.8KW power output. It works with our Tiger series microinverters and magically creates a residential solar storage system that supports battery mode operation without main power.
Furthermore, the adaptive function of the wide voltage battery enables customers to choose batteries in different voltage: (12V/24V/36V/48V), and different types: (Lead-acid batteries, lithium batteries, or others). The shell is designed with high-performance aluminum alloy to die-casting sealing so that it can keep running in the harsh natural environment.
● Create a residential solar storage system
● 4 Independent trackers, maximize each solar panel output
● Automatic battery voltage detection in 12V/24V/46V/48V
● Suitable for different battery types
● MPPT tracking efficiency >99.9%, Peak conversion efficiency >99%
● With the UPS function, keep your home devices running
● 6 LED lights clearly show all work status
● Reverse polarity protection of solar panel and battery
● Overcharge and overload protection
● Flexibly monitor your solar harvest via the APP
Through Tentek T-shine Cloud microinverter monitoring
system, the data of each PV panel and microinverter can
be easily and quickly integrated into our monitoring
platform, so as to realize remote real-time monitoring
and management, and analyze and view the operating
status of microinverter power stations
anytime and anywhere.